January 4, 1943 – Qaraoun, Lebanon
June 5, 2019 – Calgary, Alberta
It is with great sadness that we announce that Mary Salloum passed away after a courageous battle with cancer. She was surrounded by her loving and devoted children, Dan (Amy), Dana (Myles), and her cherished granddaughters, Natalie, Brenam (David), Rebecca, Abbey, and Vanessa.
Her granddaughters were her treasure and her life. She embraced their individuality and she shared her passion of cooking, gardening, travelling, and painting with each and every one of them. Mary wrote two best-selling cookbooks, A Taste of Lebanon and A Taste of the Mediterranean. In 1985 Mary, Dan, and Dana opened "The Cedars Deli" restaurants in Calgary, which introduced Calgarians to the wonderful flavors of Lebanese food.
Mary is also survived by her siblings, Sam (Renée), Lou (Helly), Jack (Nellie), Donna (Grant), and her many nieces and nephews. She is predeceased by her parents, Wadih and Adibe, and lost her brother James in 1978.
Relatives and friends are invited to Prayers and Tributes at McInnis & Holloway (Park Memorial, 5008 Elbow Drive SW, Calgary, AB) on Monday, June 10, 2019 at 7:00 p.m. Funeral Services will be held at St. Vladimir's Ukrainian Orthodox Church (404 Meredith Road N.E., Calgary, AB) on Tuesday, June 11, 2019 at 11:30 a.m. Graveside Service at Queen's Park Cemetery, and a reception and lunch to follow at the Parish Hall. Condolences may be forwarded through www.McInnisandHolloway.com. In lieu of flowers, memorial tributes can be made directly to the Louise Dean Centre, www.cfs-ab.org/what-we-do/cfs-at-louise-dean-centre/, where Mary spent countless hours volunteering. A special thank you to the doctors and nurses at the PICU at the Tom Baker Cancer Centre, Cedars Villa, and her Caregivers Janice, Jo, Jannette, and Mhay.
In living memory of Mary Salloum, a tree will be planted at Fish Creek Provincial Park by McINNIS & HOLLOWAY FUNERAL HOMES, Park Memorial, 5008 Elbow Drive SW, Calgary, AB, T2S 2L5, Telephone: 403-243-8200.
---
Prayer Service
Part 1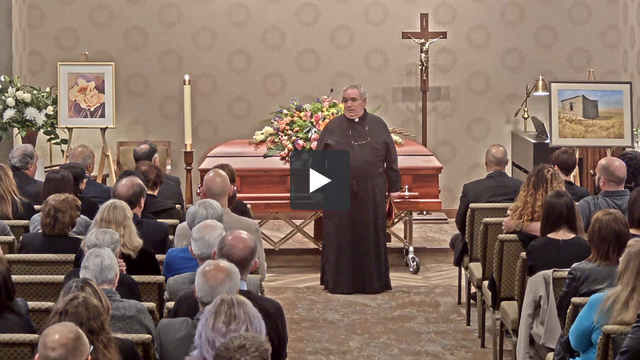 ---
Part 2
---
Part 3
Offer Condolence for the family of SALLOUM, Mary
Print This Obituary & Condolences