June 6, 1966 – Kazan, Russia
October 1, 2018 – Calgary, Alberta
On Monday, October 1, 2018, Dmitry Romanov, loving husband and father of two children, passed away suddenly at age 52.
Dmitry was born on June 6, 1966 in Kazan, Russia to Alexander and Zanayida Romanov. On December 11, 1987, he married Guzel Romanova. They raised two children, Eugene and Alisa.
Dmitry was a beloved member of his community at the University of Calgary and popular amongst his friends. He had a lifelong pursuit of education, constantly taking courses and reading non-fiction books on a variety of topics and disciplines.
Dmitry had a love of travel, nature, and animals. In the summer months you could find him working on various home improvement projects, foraging for mushrooms and fireweed, or relaxing on the porch swing. In the winter he could be found studying in his office, or reading a book on the couch with his cat Sedrik curled on his legs. No matter the season, Dmitry never needed to be asked to shovel the driveway, mow the lawn, or put gas in the vehicles. He always put the needs of his family before his own.
Dmitry travelled extensively throughout his life, making friends in many corners of the world. He was a deep well of interesting anecdotes recounting his experiences eating different foods, seeing strange animals, or meeting new people. He was an attentive listener and had a great sense of humour.
He is survived by his wife Guzel, his two children Eugene and Alisa.
Funeral Services will be held at McINNIS & HOLLOWAY (Crowfoot, 82 Crowfoot Circle N.W., Calgary, AB), on Sunday, October 7, 2018, at 2:00p.m. Reception to follow at the funeral home. Condolences may be forwarded through www.mcinnisandholloway.com.
In living memory of Dmitry Romanov , a tree will be planted at Fish Creek Provincial Park by McINNIS & HOLLOWAY FUNERAL HOMES, Crowfoot, 82 CROWFOOT CIRCLE N.W. CALGARY, AB, T3G 2T3, Telephone: 403-241-0044.
Part 1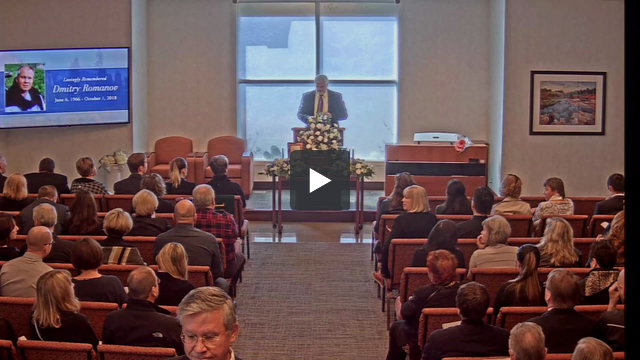 Part 2

Offer Condolence for the family of ROMANOV, Dmitry
Print This Obituary & Condolences