February 4, 1945 – Winnipeg, Manitoba
April 28, 2018 – Calgary, Alberta
Bruce went to rest peacefully with the Lord, free from pain on the evening of April 28th, after a difficult struggle with heart failure.
Bruce was born in Winnipeg and from an early age loved music and performing. Only 15 years of age, he moved to Vancouver where he started his first band, playing for teen dance parties. He continued singing and performing in various bands throughout western Canada, cutting some 33s, throughout the late 60s and 70s.
Following his passion for entertainment and the arts, he became involved in film, theatre, and musical theatre where he excelled, receiving an award for best actor in Ireland in 2012. A kind and compassionate man, Bruce received his training as a licenced practical nurse in 1991 and worked as an LPN for over twenty-five years prior to retiring in 2015.
Bruce and his best friend and life partner, Angela, loved, lived, and laughed together for 30 years. He will be deeply missed. His housecoat, a warm fire and their furry family bring strength to ease the day and get through these sad empty nights. Friends in the theatre community (including Liffey Players, Storybook Theatre, Painted Fish, Broad Minds and 17th Street Theatre), church community at Saint Francis of Assisi Church, the close-knit neighbourhood Bowness, and the health care community which Bruce was part of, remember him fondly.
Thank you to the cardiac doctors and nurses at FMC and the heart failure team, especially Dr. McMeekin, Tracy French, Peter Lawson, and the amazing Community Paramedics who cared for Bruce and supported us through this difficult journey. Your kindness, compassion and understanding were appreciated.
Bruce is survived by his wife Angela Laura Mitchell (nee Yetman), sons Mark (Sean) Stevens and Bruce (Suzi) Mitchell, and their families, his sister Sandra Langley (Brennan) and her children Janice (David) Frost and Jason, many nieces, nephews, cousins and parents-in-law, Kevin, and Agnes. He was predeceased by his parents Jawn and Mona Parastiuk and close aunts Margaret (Jerry) and Alda.
Relatives and friends are invited to Prayers and Tributes at McINNIS & HOLLOWAY (Crowfoot, 82 Crowfoot Circle N.W., Calgary, AB) on Friday, May 4, 2018 at 7:00 p.m. Reception to follow at the Funeral Home.
Funeral Mass will be celebrated at St. Francis of Assisi Catholic Church (211 – 6th Avenue S.E., Calgary, AB) on Saturday, May 5, 2018 at 1:00 p.m. Condolences may be forwarded through www.mcinnisandholloway.com.
In living memory of Bruce Mitchell, a tree will be planted at Fish Creek Provincial Park by McINNIS & HOLLOWAY FUNERAL HOMES, Crowfoot, 82 CROWFOOT CIRCLE N.W. CALGARY, AB, T3G 2T3. Telephone: 403-241-0044.
Service Video of Bruce Mitchell Part 1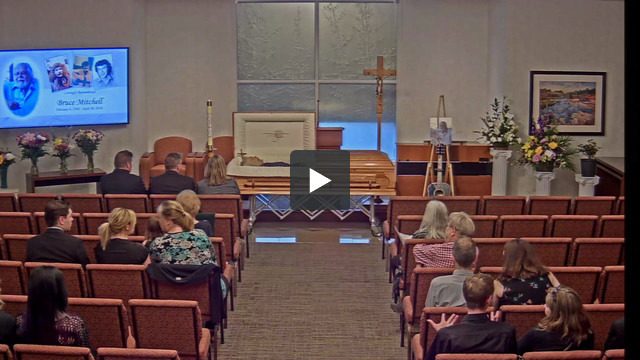 Service Video of Bruce Mitchell Part 2

Photo Memories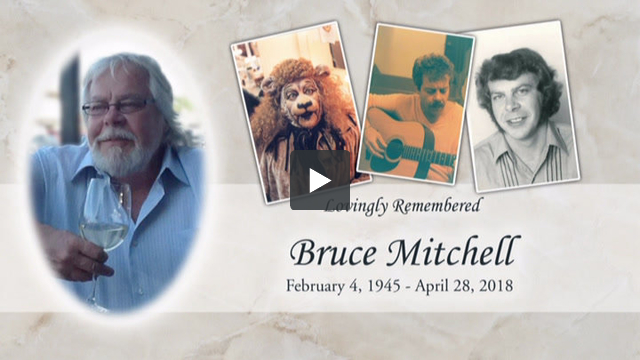 Offer Condolence for the family of MITCHELL, Bruce Jawn Michael
Print This Obituary & Condolences