December 13, 1927 – Lappano, Cosenza, Italy
May 9, 2018 – Calgary, Alberta
Lucia Imbrogno (nee Gervino), of Calgary, AB, passed away on May 9, 2018 at the age of 90.
She is survived by her loving husband, Ippolito; her sons and daughters-in-law, Franco and Rosa and Peter and Johanne; her grandchildren, Alessandro, Ashley, Patrick and James; great-grandchild Alessandro Daniel.
Funeral Service will be held at McINNIS & HOLLOWAY (Deerfoot South, 12281 – 40th Street S.E., Calgary, AB) on Saturday, May 12, 2018 at 10:30 a.m. Reception to follow at the funeral home. Condolences may be forwarded through www.mcinnisandholloway.com.
In living memory of Lucia Imbrogno, a tree will be planted at Fish Creek Provincial Park by McINNIS & HOLLOWAY FUNERAL HOMES, Deerfoot South, 12281 – 40th STREET S.E.. Telephone: 403-203-0525.
---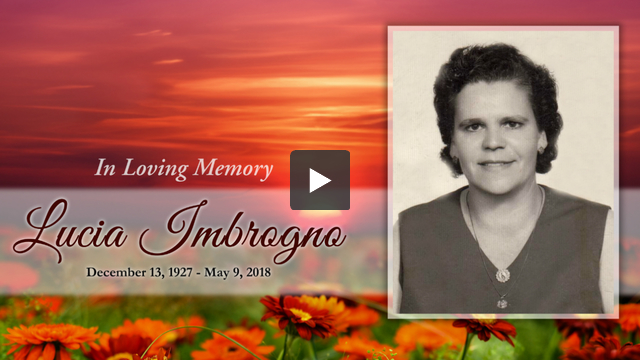 Offer Condolence for the family of IMBROGNO, Lucia
Print This Obituary & Condolences