April 14, 1951 – Yorkton, Saskatchewan
January 5, 2019 – Calgary, Alberta
It is with heavy hearts and great sadness, we announce the passing of our beloved husband, father, and grandfather, Richard, on Saturday, January 5, 2019 at the age of 67 years.
Richard was born in 1951, in Yorkton, SK, the only son of Alex and Lucy. After marrying Lynda in 1971, they started their life together in Regina, SK. Richard graduated from the University of Regina in 1978 and began a very successful finance career in the information technology industry. After many years working in Regina, his success gave him the opportunity to transfer to Calgary, AB, where he moved his family in 1993 to begin another chapter. Richard built momentum in Calgary working as an executive for several successful companies including ISM – Information System Management Alberta as the CFO, DMR Consulting Group as the Director of Business Development, and Bell Intrigna Inc. as the CFO. His final destination was a key role at Telus, working throughout Canada as their Chief Negotiator and Vice President. After retiring in 2014, Richard enjoyed going for breakfast at the Willow Park Golf Course a few times a week. He became an avid spectator of hockey and football because of his grandson, attending most games up until his last days.
Richard is survived by his wife Lynda of forty-eight years; two sons, Colin and Chad and his wife Charmaine; and two sisters, Irene and her husband Ken; and Grace. He also leaves his three beautiful grandchildren, Chase, Chloe, and Charley; along with many nieces, nephews, brothers-in-law, and sisters-in-law. We will all miss him.
Those wishing to pay their respects may do so at McINNIS & HOLLOWAY (Deerfoot South, 12281 – 40th Street S.E., Calgary, AB) on Wednesday, January 9, 2019 from 6:30 p.m. to 8:30 p.m.
A Celebration of Richard's Life will be held at McINNIS & HOLLOWAY (Deerfoot South, 12281 – 40th Street S.E., Calgary, AB) on Thursday, January 10, 2019 at 2:00 p.m. Reception to follow in the Hospitality Centre at the Funeral Home.
If friends so desire, memorial tributes may be made directly to Diabetes Canada, 220, 6223 – 2nd Street S.E., Calgary, AB T2H 1J5 Telephone: (403) 266-0620, ext. 1112, www.diabetes.ca. Condolences may be forwarded through www.mcinnisandholloway.com.
In living memory of Richard Gutor, a tree will be planted at Fish Creek Provincial Park by McINNIS & HOLLOWAY FUNERAL HOMES, Deerfoot South, 12281 – 40th STREET S.E., Calgary, AB T2Z 4E6, Telephone: 403-203-0525.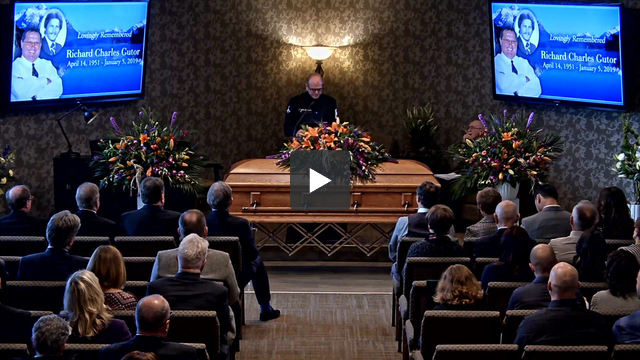 Offer Condolence for the family of GUTOR, Richard Charles
Print This Obituary & Condolences