May 27, 1929 – Medicine Hat, Alberta
April 3, 2019 – Lethbridge, Alberta
It is with great sadness we report that "Father Ed" Flanagan passed away in hospital in Lethbridge, AB on Wednesday, April 3, 2019, the 65th anniversary of his ordination as a priest in the Roman Catholic Church.
Father Ed was born in Medicine Hat, AB, to parents, Thomas Flanagan and Julia Meany, immigrants from Ireland. He was the second youngest child in a family of twelve. He is survived by his brother, Patrick of Red Deer, AB and many members of a large, extended family.
Father Ed attended St. Theresa's Academy in Medicine Hat, and knew from his early teens that he was called to the priesthood. After being educated at St. Augustine's Seminary in Toronto from 1947-1954, he was ordained by Bishop Carroll, April 3, 1954 at St. Mary's Cathedral in Calgary. Father Ed celebrated his first mass at St. Patrick's Church, Medicine Hat. In addition to serving many rural communities in southern Alberta, Father Ed was a parish priest at St. Basil in Lethbridge, and several parishes in Calgary including, Sacred Heart, Corpus Christi, St. James, St. Gerard, St. John the Evangelist, and St. Mary's Cathedral. Included in a book on the history of the Sacred Heart parish church, is the following description: "Father Flanagan was a man of deep principles; he was approachable and attentive and could deftly inject his fine sense of humour into matters of a serious nature." Attendance at a mass celebrated by Father Ed was an uplifting experience due to the wise words in his sermon and his lovely singing voice. He lived life as he believed, and he will be greatly missed.
Funeral Vigil will be held at St. Mary's Cathedral (219 – 18th Avenue S.W., Calgary, AB) on Monday, April 8, 2019 at 7:00 p.m.
Funeral Mass will be celebrated at St. Mary's Cathedral (219 – 18th Avenue S.W., Calgary, AB) on Tuesday, April 9, 2019 at 11:00 a.m. Rite of Committal will be at St. Mary's Cemetery. Reception to follow in the Cathedral Hall.
Mass for the Dead will be held at St. Basil's Church in Lethbridge at 7:00 pm, Thursday, April 11, 2019. Condolences may be forwarded through www.McInnisandHolloway.com.
The family expresses its appreciation for the support and care provided to Father Ed by many people during his retirement in Lethbridge, particularly Pat Lenon, Lisa Mitchell and Annella Wehlage.
If friends so desire, memorial tributes may be made to a charity of their choosing.
In living memory of Rev. Edward Flanagan, a tree will be planted at Fish Creek Provincial Park by McINNIS & HOLLOWAY FUNERAL HOMES, Park Memorial, 5008 Elbow Drive SW, Calgary, AB, T2S 2L5, Telephone: 403-243-8200.
---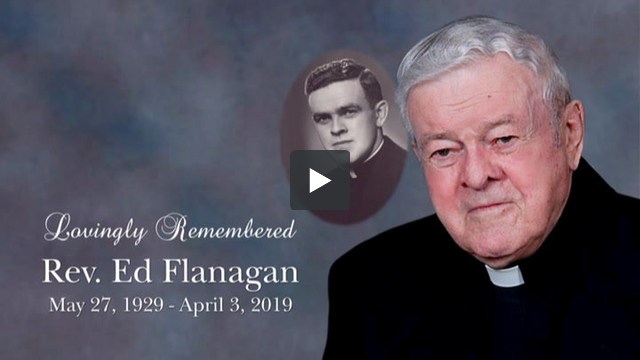 ---
Offer Condolence for the family of FLANAGAN, Reverend Edward Bernard
Print This Obituary & Condolences