July 7, 1994 – Calgary, Alberta
December 31, 2018 – Calgary, Alberta
Déjà, beloved daughter, sister, niece, cousin, granddaughter and friend, passed away on Monday, December 31, 2018 at the tender age of 24.
Déjà's life may have ended here on earth, but Déjà's eternal life in heaven has begun with our Heavenly Father Jesus Christ. Déjà spent most of her life growing up in Alberta minus a few years in Regina, SK. Family was everything to Déjà, and her friends, a close tie. Déjà lived in the moment and for the moment – her passion was people. Déjà went to college to obtain her health care aide diploma and worked at Big Hill Lodge and private home care in Cochrane, AB. A job designed for her by God as she was absolutely gifted in this area. Déjà will be remembered for her huge heart, her beautiful smile, her infectious personality and contagious laugh. Déjà left her mark everywhere she went and she will be missed beyond measure.
Deja is survived by her mom and dad, Kandace (Shane) Yakemchuk; sister Billie Mandock; her father Ken (Darcel) Fischer; brother Justin Fischer; Grandma Peggy Fischer; as well as uncles, aunts, and cousins.
She was predeceased her Grandmother, Eleda (Sharon) Mandock, Grandpa, Mike Fischer and Gido, Ken Yakemchuk
A Celebration of Life will be held at McINNIS & HOLLOWAY (Deerfoot South, 12281 – 40th Street S.E., Calgary, AB) on Saturday, January 12, 2019 at 2:00 p.m. Reception to follow in the Hospitality Centre at the Funeral Home. If friends so desire, memorial tributes may be made directly to the Asthma Society of Canada, Suite 401, 124 Merton St, Toronto ON M2S 2Z2 Telephone: (416) 787-4070. www.asthma.ca. Condolences may be forwarded through www.mcinnisandholloway.com.
In living memory of Déjà Fischer, a tree will be planted at Fish Creek Provincial Park by McINNIS & HOLLOWAY FUNERAL HOMES, Cochrane, 369 RAILWAY STREET, COCHRANE, AB, T4C 2E2, Telephone: 403-932-4740.
Service Recording:
Part 1


Part 2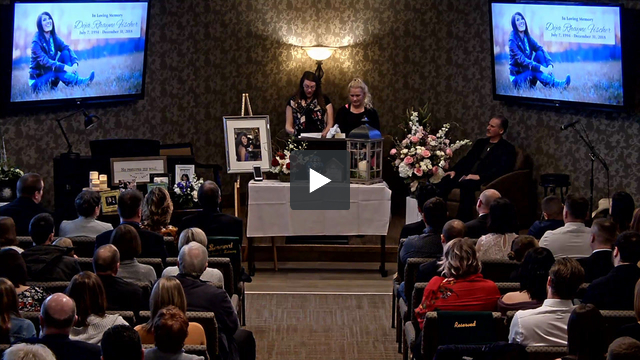 Part 3

Offer Condolence for the family of FISCHER, Déjà Rhayne
Print This Obituary & Condolences