September 24, 1932 –Becmen, Yugoslavia
April 16, 2019 – Calgary, Alberta
Jakob Binder, beloved husband of Elizabeth Margaret Binder of Calgary, AB, passed away on Tuesday, April 16, 2019 at the age of 86 years.
Jack was born in Becmen Yugoslavia in 1932. In 1943 the family fled to Austria until they immigrated to Canada in 1953, settling in Calgary in 1954.
Jack started out with humble beginnings and despite the success he created along side his wife Elizabeth, they remained down to earth and generous of heart. He and Elizabeth met in 1958 and later married in 1960. Little did they know at the time, they would be life and work partners. Their talents complemented each other well, in work and in life. They started their entrepreneurial life with a small grocery store and later real estate endeavors that included The European Delicatessen. Many people remember the deli to this day for the authentic European delicacies, products and most of all the service.
Jack loved to tell jokes and bring a smile to everyone he met. He was a proud father to his two daughters, Sandra and Katharina. When his daughters married, he welcomed their spouses as his own and adored his grandchildren. He was charismatic and charming, not because he was handsome, but rather his sense of humor, love for his family and ability to see the good in everyone.
Jack will be remembered for his gentle spirit, unconditional love, genuine smile and "those baby blue eyes"
"My father didn't tell me how to live: he lived, and let me watch him do it" –Clarence Budington Kelland.
Jack is survived by his beloved wife Elizabeth Binder; his two daughters and sons-in-law Sandra and Nagui Bihelek, and Katharina and David Kunz; his three grandchildren, Nicoline, Kurt and Saje. his siblings, George (Susan) Binder, John (Rose) Binder, Hermine (Erich) Stoppa, Nik (Ginny) Binder, Susanna (Murray) McAuley, Erich (Lynda) Binder, and sister-in law Trudy Binder. He will be lovingly remembered by his nieces and nephews and his extended family and friends. He was predeceased by his parents, Susanna and Georg Binder; his brother, Walter Binder and sister Eva Neumiller.
Relatives and friends are invited to Prayers and Tributes at McINNIS & HOLLOWAY (Park Memorial, 5008 Elbow Drive SW, Calgary, AB) on Friday, May 3, 2019 at 7:00 p.m.
Funeral Services will be held at McINNIS & HOLLOWAY (Park Memorial, 5008 Elbow Drive SW, Calgary, AB) on Saturday, May 4, 2019 at 10:30 a.m. Reception to follow in the Hospitality Centre at the Funeral Home. Graveside Service to follow at Eden Brook Memorial Gardens. Condolences may be forwarded through www.McInnisandHolloway.com.
The family would like to thank family and friends who spent time and love with Jack during his last weeks. If friends so desire, donation may be made directly to The Alzheimer Society of Alberta and the Northwest Territories, Administrative Office, 10531 Kingsway Avenue, Edmonton AB T5H 4K1. Tel: (1-866) 950-5465, www.alzheimer.ab.ca .
In living memory of Jakob Binder, a tree will be planted at Fish Creek Provincial Park by McINNIS & HOLLOWAY FUNERAL HOMES, Park Memorial, 5008 Elbow Drive SW, Calgary, AB, T2S 2L5, Telephone: 403-243-8200.
---
Prayer Service: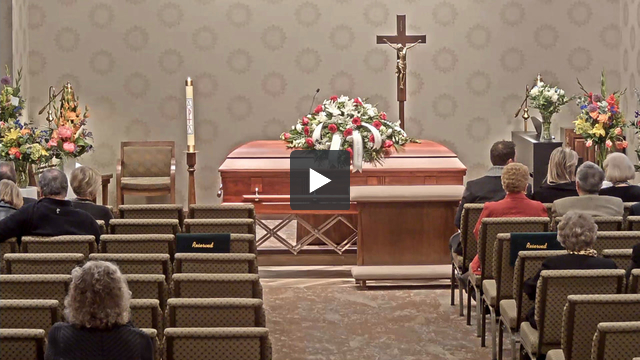 ---
Funeral Service:
Part 1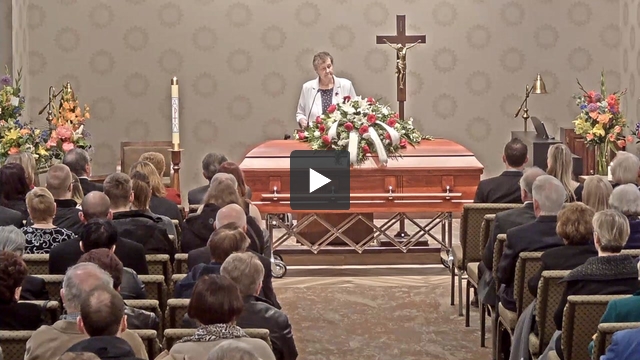 Part 2
---
Photo Memories
---
Reception Video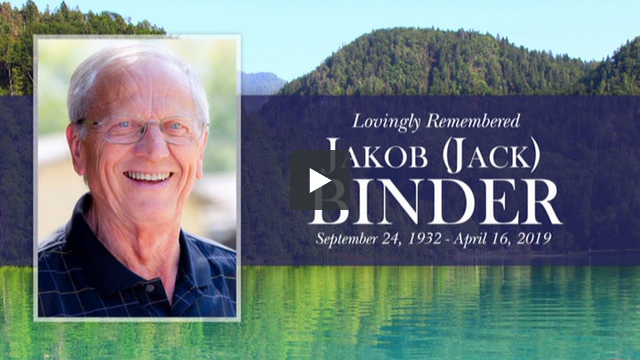 Offer Condolence for the family of BINDER, Jakob "Jack"
Print This Obituary & Condolences