June 14, 1946 – Windsor , Ontario
November 18, 2017 – Calgary, Alberta
It is with great sadness that we announce the passing of our loving husband, son, father, grandfather, and friend. Richard "Rick", passed away peacefully in his home, as he wished with family by his side on November 18, 2017 at the age of 71 years.
Rick was the second child born to Helen and Cyril Beaudette in Windsor, Ontario. He grew up in Maidstone, Ontario where he was fondly known in the community as Ricky. He lived his childhood full of shenanigans and mischief. Rick's compassion and fondness for animals was apparent very early on where he would bring pigeons in to the school house and stow them away in the desks to keep warm in the winter.
Rick left home to join the military at sixteen years old but was told he was not old enough and to come back. He returned a few short months later where he was again told he was not old enough, but this time stayed and worked on the base and took courses until such time he was old enough to join the Canadian Armed Forces. Rick served in our Military from 1963 to 1975. During this time he completed two peacekeeping tours with the First Battalion Canadian Guards, was a member of the Airborne Regiment Charlie Company and ended his military career as a Military Police Officer.
Together with his wife Joyce, Rick continued to touch and change lives by becoming a foster parents. Over the years Rick and his wife fostered fifty plus foster children, some long term and some for a short time. Many of these foster children, now adults contribute their success in life to the kindness, patience and life lessons learned while in Rick and Joyce's care. He was able to see the good in everyone and build on it despite their challenges and tribulations.
Rick had a way of touching the lives of everyone he met; he was a kind and gentle soul with a love of nature and animals. He lived his life the way he wanted and like every thing else he did in life he handled his brief battle with cancer with grace and dignity, making sure to make people laugh and smile every step of his journey. He will be dearly missed by all those who were lucky enough to have met him.
Rick is survived by his loving wife Joyce; his mother Helen; sister Peggy; brother Tim; daughter Tannis (Keith); son Marvin; grandchildren Kyla (Jarvis), Gerrit, Ryker, Veronica and Monty; and great-granddaughter Phoenix. He was predeceased by his father Cyril; brothers Jay and Paul; and sister Donna.
A Celebration of Life will be held at McINNIS & HOLLOWAY (Crowfoot, 82 Crowfoot Circle N.W., Calgary, AB), on Sunday, December 3, 2017 at 2:00 p.m. Reception to follow at the funeral home. Condolences may be forwarded through www.mcinnisandholloway.com. If friends so desire memorial tributes may be made to the animal shelter of your choice.
In living memory of Richard Beaudette, a tree will be planted at Fish Creek Provincial Park by McINNIS & HOLLOWAY FUNERAL HOMES, Crowfoot, 82 CROWFOOT CIRCLE N.W. Telephone: 403-241-0044.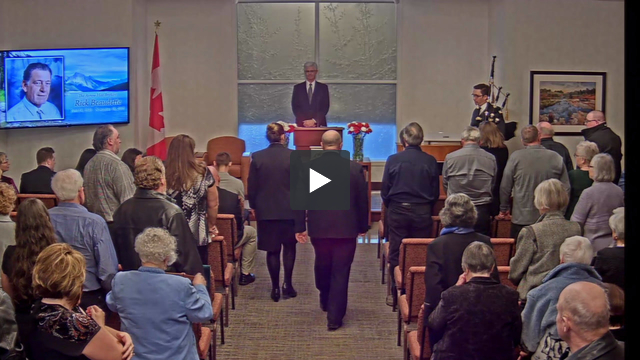 Offer Condolence for the family of BEAUDETTE, Richard Allen "Rick"
Print This Obituary & Condolences