January 15, 1950 – Calasiao, Philippines
May 6, 2019 – Calgary, Alberta
It is with heavy hearts that we announce the passing of our beloved Julie Puzon Dizon Atagan at the age of 69 years on May 6, 2019 in Calgary, Alberta.
Julie is survived by her husband, Delfin Atagan; daughters, Blanche Atagan and Jonelle (Uche) Atagan-Okpalugo. She will be greatly missed by her grandchildren, Noah, Brandon, Hana and Eli. She is also survived by her two brothers, Fernando Dizon and Heddy Dizon of the Philippines. Julie will also be missed by numerous nieces, nephews, great nieces and great nephews in Calgary as well as all across the globe.
Julie was born in Calasiao, Pangasinan, Philippines in 1950. She was the youngest of ten children born to Victoria and Pablo Dizon. Julie was predeceased by her father in 1949 while she was still in her mother's womb. Her mother passed away in 1986. She was also predeceased by her older siblings, Abraham, Bernardo SR., Cesar, Dante, Ester, Gilda and Ismael all of whom were based in the Philippines.
Shortly after high school, Julie's family decided to move to Caloocan City, Philippines. She completed her degree in Bachelor of Science in Nursing at Manila Central University. There, she met many lifelong friends. After graduating from university at the age of 22, Julie, along with one of her closest friends made the leap of faith and ventured to Canada.
In 1973, Julie landed in Dauphin, Manitoba to work as a nurse. It was also in Dauphin where she met and married the love of her life, Delfin Atagan in 1975. After they got married, the young couple moved to Calgary, Alberta. For three decades, Julie was a devoted and passionate nurse at both Mayfair Care Centre and Glenmore Auxiliary Hospital until her retirement in 2004.
Julie loved a good family gathering and she was well known for being hospitable and a host to wonderful backyard barbeques. She always loved to share a laugh and made sure there was plenty of food and that everyone was fed to the fullest.
Those wishing to pay their respects may do so at McINNIS & HOLLOWAY (Deerfoot South, 12281 – 40th Street SE, Calgary, AB) on Saturday, May 18, 2019 from 5:00 p.m. to 6:30 p.m.
Relatives and friends are also invited to Prayers and Tributes at McINNIS & HOLLOWAY (Deerfoot South, 12281 – 40th Street SE, Calgary, AB) on Saturday, May 18, 2019 at 6:30 p.m.
Funeral Services will be held at Calgary Garden Road Seventh-day Adventist Church (155 100 St NE, Calgary, AB) on Sunday, May 19, 2019 at 11:00 a.m. Condolences may be forwarded through www.McInnisandHolloway.com.
In living memory of Julie Atagan, a tree will be planted at Fish Creek Provincial Park by McINNIS & HOLLOWAY FUNERAL HOMES, Deerfoot South, 12281 – 40th STREET SE, Calgary, AB T2Z 4E6, Telephone: 403-203-0525.
---
Prayers Service
Part 1
---
Part 2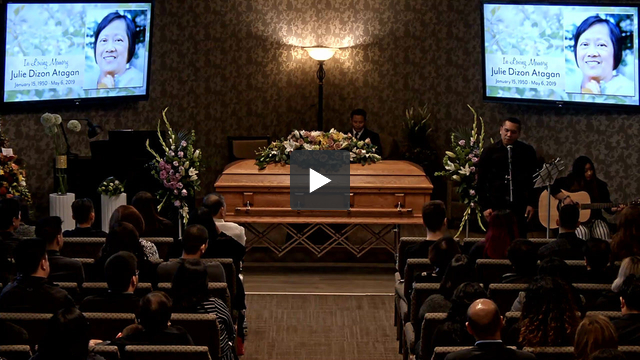 ---
Offer Condolence for the family of ATAGAN, Julie Dizon
Print This Obituary & Condolences